It's time to escape…
If you need a vacation from life, from work, from kids and responsibilities, I'm your girl! I've got over 20 delicious books that will sweep you off your aching feet to delicious, far away places.
So grab your favorite beverage, put on your most comfortable outfit, stake out your favorite chair, and settle in with your ereader.
It's time for an adventure. It's time for love. It's time to escape…

What's New
Fangs, Fur & Mistletoe – Freebie – If you haven't read the first book in Selena's Mystic Isle series, stay tuned to Amazon Feb 2-4 to download a free copy. In return, please let your friends know about Selena's work and this fabulous opportunity.
Bound to the Vampire is Finished! – I'm absolutely thrilled to announce that Bound to the Vampire is finished and that I'll be able to announce a release date in the next week or two. Coming up next is Reclaiming Isis, my super sweet and oh-so-sexy light-sci fi menage. So if you're looking for a quick m/f/m read, mark your calendar. January 27th is the release date.
Get Your Holiday Read! – Fangs, Fur & Mistletoe and A Cajun Werewolf Christmas are available to whet your Holiday Reading appetite. FFM is the first in the Mystic Isle series and A Cajun Werewolf Christmas is the Happily Ever After after the Stormy Weather series. Both are light paranormal and reader favorites.

New Ways To Escape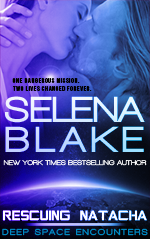 Rescuing Natacha (DSE, Book 2)
One dangerous mission. Two lives changed forever.
Amazon |
Nook
| Other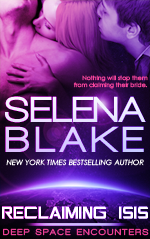 Reclaiming Isis (DSE, Book 1)
They'll do anything to claim their bride.
Amazon |
Nook
| Other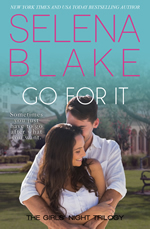 Go For It (Girls' Night Trilogy, Book 2)
Sometimes friends make the best lovers.
Amazon |
Nook
| Other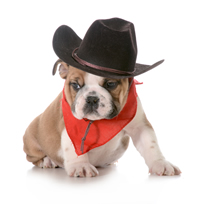 Howdy partner.
New around these parts?
Let me give you a tour. Start on Selena's Books Page. You'll find a complete list of all her paranormal and contemporary offerings. Then mosey on over to Meet Selena where you'll find out all about her. Hint: she loves books, underdog stories and chocolate. When you're done with that, join the Wolfpack, Selena's friendly and free fan club. You'll get five free reads, partner. Don't want to miss that. While you're here, you might as well check out the official Selena GEAR, meet the Reader of the Month, see what's coming soon or read the blog. I don't know what  a blog is, but Selena Says don't miss it!
"Selena Blake has created a steamy escape down in the bayou. These quick, fun reads are a pleasurable experience to have when time is short." ~ Kristy Bock, ParanormalRomance