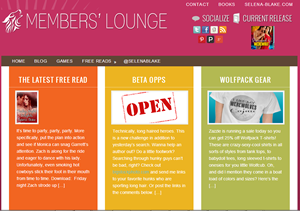 Dear Reader,
When you sign up for my mailing list you gain access to my five (yes, 5!) Free Reads, in addition to:
exclusive excerpts
games & puzzles
Wolfpack goodies
From time to time I will also post special polls and invitations to BETA read projects.
But most importantly, you become an official member of the Wolfpack! This is an awesome community made up of readers like you, fans of romance and love, happily ever after and Selena Blake. If you love contemporary or paranormal romance, The Wolfpack is where it's at. Best of all, membership is FREE. (No, I'm not pulling your leg.)
XOXO,

1. MEMBERSHIP IS FREE
Membership is free and the signup process is quick. Sign up >>
2. ENTER THE MEMBERS ONLY LOUNGE
Enter the membership site by typing the email address you signed up to her mailing list with. No need for a password.
3. GET GOODIES
Ready & Willing (paranormal novel)
A Cajun Werewolf Christmas (paranormal short story)
Friday Night Delights (sensual southern contemporary serial)
Instructing Adam (short erotica, prequel to Ask For It and Go For It)
More Than Attraction (paranormal short story set in the Stormy Weather world)

What Readers Are Saying
I absolutely LOVE the idea of giving us members a chapter by chapter free read of 4 different books! I can't wait to check-in to the Members Only section to see if a new chapter has been put up yet! ~ Cheryl Sanders
It makes me feel special, plus I also like the free reads. ~ Ellen Blakely
I love when an author includes her fans! When I go to your website I am just amazed at finding interesting things there! And the chapter by chapter free reads are awesome! Of course Selena Blake, you are awesome too! ~ Jana Goodwin
I love having a place just for me (and other fans). It's just an awesome place all around. What's not to love about free books!! Your awesome Selena! ~ Jodie Stump
I have enjoyed going to your website, it is really amazing to get the free chapter, the interaction with your fan base. You are one the best authors around. I love everything that I have read so far. The free reads works really well. ~ Belinda Simmons
I like than an author sets up an area for their fans. The free reads are a great plus. ~ Zita Rivera