All your fellow readers are doing it. Are you?
By it I mean collecting and trading romance trading cards of course.
As the graphic says, little boys love baseball cards. Their mommies love romance trading cards.

Authors of all subgenres of romance are producing gorgeous collector card sized trading cards about their characters. Some only offer hero cards. Some also offer heroine cards. No matter what genre, author, or characters you love this is a fabulous memento for the book.
Want to find out which authors are offering trading cards? Here's a brief list: romancetradingcards.com I also suggest you check out individual authors' websites and/or email them.
Attending a conference? Keep an eye peeled for romance trading cards on the goodie/promo item table. More and more authors are sending cards to reader conferences and offering them at book signings.
Ready to start trading?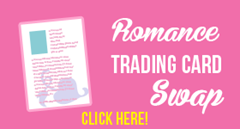 Visit the romance trading card swap on Facebook. You'll want a group invitation so you can start posting cards you want to trade and connect with other readers who have cards you want!
Get together with your local book club and start swapping.
Head to a conference and swap with those readers.
Info on Selena Blake's Romance Trading Cards

Selena currently offers 5 romance trading cards featuring the 5 handsome Deveraux men in her bestselling Stormy Weather series. Stay tuned for contests, watch for these at conferences or request Romance Trading Card starter kits for your local bookclub.