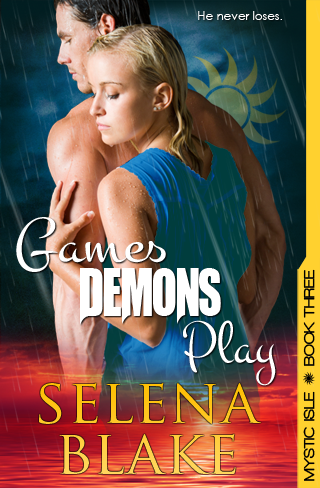 Series: Mystic Isle # 3
She needs to win. He never loses.
Get Your Copy: Amazon | Amazon UK | Amazon DE | Nook | Kobo | Google Play | Smashwords | PRINT
The emotional and sinfully sweet third book in the Mystic Isle series.
When Izzy Lukin wakes up in the arms of a sinfully handsome stranger, she's immediately sure of two things. She wrecked a really expensive car and the man holding her is not human.
Shade has won enough card games in his life to know when to hold. The beautiful vamp hell bent on paying for the damage she caused is definitely worth holding on to. But what will happen when she finds out they'll be going head-to-head in the poker tournament…and he never loses?
Warning: contains an impulsive heroine, one super sexy demon who never loses, steamy bathroom sex, a glitzy casino and surprises no one saw coming

GET YOUR COPY






THE DEETS
ISBN: 9781301999408
Publisher: Ecila Media
Release Date:
Keywords: paranormal romance, vampire, werewolf, shape-shifter, demons, Fae
Genres: Erotic Romance, Paranormal Romance
Heat Level: Sensual
Length: novel
Wordcount: 40000
HELP YOUR FRIENDS ESCAPE TO Mystic Isle
Talk on Twitter: #GDPSB | Share on Facebook

ADD GDP TO YOUR LIST




Accolades & Reviews

"I was intrigued from the very first chapter and could not put the story down until the spectacular ending that had me clapping and cheering for Izzy and Shade. This author continues to impress me with her entertaining and engaging supernatural island setting and captivating characters." ~ 4.5 Stars –  Evampire at Night Owl Reviews
"Mystic Isle has the right amount of mystery, drama, excitement and smokin` hot sex to keep readers coming back for more. Too bad you can't write them faster." ~ Karen Roma
"Izzy is too funny and a perfect combination of sweet & sassy, while Shade is a totally delicious demon with a sweet and caring side. They are absolutely perfect for each other. And after the tournament Izzy comes face to face with her troubled past, and I have to say, I was 100% gratified with how she reacted. If I could have given her a high five, I would have lol.  It's a must read!" ~ Emi Lia at Bitten by Paranormal Romance
5 Stars – "I found this book to be the most enjoyable book not the MI series so far. The chemistry between Shade and Izzy was incredible. Izzy is so spirited and determined, but Shade truly admires her just as she is. Izzy soaks up Shade's concern and affection. It's exactly what she needs to help her heal. I don't want to post a spoiler, so I'll just say that the ending was both surprising and touching. The way that Izzy took matters in her own hands was terrific."
5 Stars – "I love this series from Selena Blake. I also loved the Stormy Weather series. Love me some Cajun Werewolves. Can't wait for some more great reading from this author."
"I found this book to be the most enjoyable book in the MI series so far. The chemistry between Shade and Izzy was incredible. Izzy is so spirited and determined, but Shade truly admires her just as she is. Izzy soaks up Shade's concern and affection." ~ Anna Price on Amazon
"Another winner from Selena Blake. I have enjoyed all of her books. This has been a fun series to follow." ~ D. A. on Amazon
"I just love the Mystic Isle series and was not disappointed with this new story!" ~ Cilicia White on Amazon
"This book as all her others was fantastic. I love all her books but to be completely honest I have to say I love the Mystic Isle series the best." ~ Viv on Amazon
"I absolutely loved it." ~ Heather on Amazon
"I loved this book! Izzy and Shade are my favorite characters in the M.I. Series!!!!" ~  Tricia Riol on Amazon
"Vampires, demons and expensive cars…what's not to love?" ~  Anonymous on Nook
"Love the Mystic Isle series. I always check to see when the next one is going to be out. A must read series." ~ Anonymous on Nook
"Selena has outdone herself again. All her series always leave you craving for more and this one is no different. I can't wait for the next book in the mystic Isle series." ~  Anonymous on Nook
"OMG! I loved this one! it is my favorite of the series!" ~ DeeDee on Nook
"Enjoyed it so much, I'm going to have to back and re-read the first two." ~ AnnieT77 on Nook
"Another great addition to the Mystic Isle series!!" ~ JustDucky422 on Amazon

EXCERPT

"Hello, Gorgeous." Izzy Lukin trailed the edge of her index finger down the flawless black paint. The Bugatti Veyron could have been a man, she lusted for it so.
"Who are you talking to?" Avery's voice echoed in Izzy's ears thanks to her iPhone's earbuds.
"No one," Izzy said quickly, snatching her hand back.
The dim light in the garage made the sleek sports car extra seductive. Like a woman… bathed in candlelight. But a woman did not come with twelve hundred horsepower. Or a body with enough contours it could have been a world-class bodybuilder. And a gleaming paint job that called to Izzy like a droplet of blood.
Like all vamps, she was attracted to shiny, sparkling things, and the coal black car in Valencia's garage certainly glittered. Especially since Izzy had opened the enormous garage door, letting the pale beams of light from the full moon dance through the space.
"You're not doing what I think you're doing?" Avery asked. Avery, the raven-haired American beauty with the exotic Asian features, was fast and loose with men, but when it came to coven rules, she might as well have been a nun.
"Of course not. I was only talking to her." Talking. Lusting after her. Her being Gorgeous, the car.
"I still think it's crazy-sauce that V nicknames her cars," Avery replied. As a former Olympian and sports therapist, Avery was practical. Analytical. She was not particularly fantastical.
Izzy, on the other hand, had an impulsive streak as wide as the English Channel. She loved that Valencia, cool-as-the-Siberian-winter, gave her cars names. If she were ever able to buy a car like Gorgeous, she'd give it a sexy name too.
"She nicknames her jewels as well," Izzy reminded, bringing up one of Avery's favorite topics. The vampiress might be practical, but her love of fine jewelry ran deep. It was Avery who single-handedly pushed Valencia into opening a chain of jewelry stores.
"Well, honey," Avery drawled, "if I had stones like hers, I'd name 'em too."
Izzy's thought exactly.
"I will be back before sunup. Do not worry about me." Turning away from the car, she clutched the collection of hangers with her left index finger and tossed the garments over her shoulder.
"I still don't understand why you don't let the butler take care of your dry cleaning."
Avery didn't mind being waited on. Izzy had not gotten used to it. And besides, sometimes she just needed her space. "I like to get out of the house." Despite the enormous mansion and surrounding land, she still got restless sometimes and needed to be out among people. It was probably because she grew up in a big city where you could not move without rubbing shoulders with your neighbor.
Izzy glanced at the gleaming motorcycle Valencia had given her on the one-year anniversary of the night she'd been turned. Jet-black with sparks of chrome. A beast of a machine that purred between her thighs.
It wasn't the Bugatti.
Against her better judgment, she glanced back at the car and a tendril of desire snaked through her body. What would it be like to drive such a precision machine? She could almost feel the bucket seats curving around her, hugging her, cupping her ass like tight denim. Like the ultimate caress.
Over the top of the car, Izzy spied the shadow box containing keys to all the cars in the garage. Normally, Izzy drove her motorcycle or if she needed a car, she drove Lucifer, the Mercedes. But right there for the world to see… The keys to the Bugatti. Did she dare?
"Do not wait up." As she hit the button on the phone to disconnect the call she heard Avery call her name. There was no way for Avery to make it from her room to the garage in time to stop Izzy. Unless she flashed.
Valencia would never know. She was in New York City for fashion week, Izzy reasoned with herself. She would have Gorgeous back in her stall by sun up.
Desire drove her to the keys. She was careful with the hangers as she laid her dry cleaning in the passenger's seat. The fine leather interior smelled divine and a surge of excitement shot through her. Sitting in a Bugatti, surrounded by the cozy-yet-sleek interior, was like coming home.
Like finding the perfect pair of shoes. Just the right color. Just the right heel height. Just the right fit.
The engine roared, then purred. A tremor quaked through Izzy's body as she adjusted the mirrors. The car was ridiculously expensive. The kind of money that very few people could afford. People like her father. Like Valencia. Her fingers wrapped around the steering wheel and she felt a flush similar to an oncoming orgasm. Perfection was in the details and this automobile was worth every penny.
Breathless, she pulled into the courtyard and flipped on the lights. It was not often that Izzy got butterflies of excitement in her stomach. Being wrapped in this glorious car was one of those times.
Smiling, she stepped on the gas.
The gas pedal was sensitive, just as she'd expected. It would be so easy, too easy, to release the power. To accelerate across the countryside and experience the automobile as it was meant to be driven. Full on, without caution.
Too easy.
When she rolled to a stop on the outside of town she looked at the sign across the road. An invisible power urged her to let the horses beneath the hood run free. Fast and far, unbridled.
Left to town. Right… to Germany. To the Autobahn.
Glancing in the rearview mirror, she realized there was one more direction she could go. Back.
Home to the mansion. Put Gorgeous away. Get in Lucifer and do the smart thing. The boring thing.
Drive.
Not for the first time in her life she felt helpless, powerless against the unknown pull. Drawing her away from what she knew was the smart decision. The temptation was so strong she felt like she were not really inhabiting her body. Just a passenger along for the ride.
Drive.
She turned right.