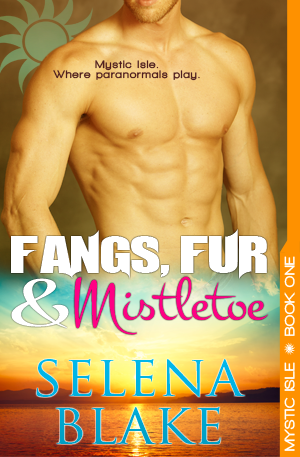 Series: Mystic Isle # 1
Get Your Copy: Amazon | Amazon UK | Amazon FR | Amazon DE | iBooks | Nook | Kobo | Smashwords | PRINT
Vampiress Coco Jeffres has one week to get her mojo back. After a long sexual drought, Mystic Isle, the exclusive pleasure playground for paranormals, is just what the doctor ordered. For once she's choosing lust over love.
Tall, dark, and oh-so-handsome werewolf Grayson West is well versed in the arts of war and women. He's got one week to blow off some steam before he heads back into the field and he's more than willing to help a lady find her inner vixen.Especially when she's the same beautiful blue eyed vamp he met one hundred years ago and has never been able to forget. They were once sworn enemies, pulled apart by war. Now they're lovers. But history has a way of rearing its ugly head and their new relationship will have to stand up to the test of loyalty, friendship and even time itself.
Warning: includes a sexy werewolf, a slightly exhibitionist vampire, hot beach sex, seductive sex against a palm tree, and a scorching hot 100 year old romance in the making.

GET YOUR COPY







THE DEETS
ISBN: 9781301189601
Publisher: Ecila Media
Release Date: November 30, 2012
Keywords: paranormal romance, vampire, werewolf, shape-shifter, demons, Fae
Genres: Erotic Romance, Paranormal Romance
Heat Level: Sensual
Length: Novella
Wordcount: 32000
HELP YOUR FRIENDS ESCAPE TO Mystic Isle
Talk on Twitter: #FFM | Share on Facebook

ADD FFM TO YOUR LIST




Accolades & Reviews

"Fangs, Fur and Mistletoe was sensual, enjoyable and a great look into a unique group of people. I hope this is the start of a series, because I would definitely love to hear more about Coco's coven mates and Mystic Isle." ~ Tamara Hoffa, Sizzling Hot Book Reviews
"You get two lost souls finding love and passion on Mystic Isle. All is not smooth. The journey is rocky, but true love conquers all. I recommend this book and I'm looking forward to more Mystic Isle books. This is a great read anytime of the year." ~  Lisa Jung, Night Owl Reviews
"Even though this book is part of a series, it was a complete story and did not end in a cliff-hanger. (Thank you Selena Blake!) This was another great little holiday tale but could be read year-round. If you are looking for a sexy paranormal tale, this could be for you!" ~  Alaskan Bookie 

EXCERPT

"I remember everything," she whispered, her fangs lengthening."This?" he whispered, a large hand splaying across her lower back. Hot. Strong. Possessive. Pulling her closer until their hips brushed."Yes." The word came out as a hiss.He took her hand and laid it over his heart. The organ beat out a steady rhythm against her palm. She soaked in the heat of his skin, the strength of his chest.
"And this?" he asked, his deep voice seducing her as easily as his touch.
"Yes."
She remembered the sound of his heartbeat thundering in her ears. His pulse, visible in the strong artery in his neck. She'd wanted to taste his blood, sink her fangs into him as he entered her.She still wanted that.
He cupped her cheek with his other hand and dipped his head. The light from a nearby lamppost lit his eyes. Just as they had all those years ago, his irises flared, and for the briefest of seconds she thought that maybe he could see to the depth of her soul. No one, not even Valencia and certainly not Dmitri, had ever studied her so intensely.
"And this?" he murmured again, their lips less than a centimeter apart.
She smelled whiskey on his breath, one more memory of this night. All she had to do was close the distance and find out if he kissed as well as he did in her dreams.
Just like that night on the battlefield, his thumb traced her jaw line. And just like that night, desire warred with the knowledge that they were not destined to be together.
But she hadn't come to Mystic Isle for together-forever. She'd come for hot-shout-my-name-sex. She'd come here… to come.
So this time when he glanced back and forth, staring so deeply into her eyes, gauging her response, she let her lips do the talking.