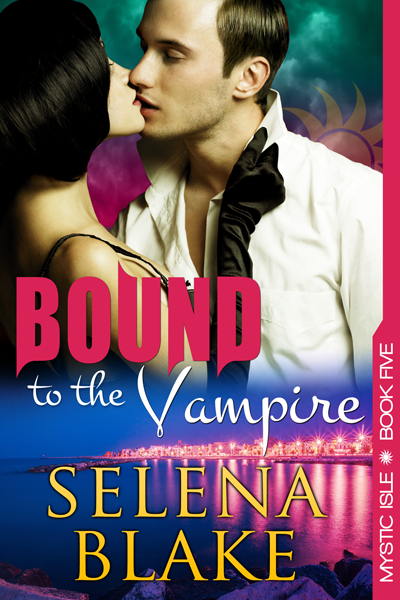 Series: Mystic Isle # 5
Does a blast from the past mean together at last?
Get Your Copy: Amazon | Amazon UK | Amazon FR | Amazon DE | iBooks | Nook | Kobo |
The wait is over! Valencia's book is finally here. Don't miss this tale of love, lust and ultimate betrayal by New York Times bestselling author Selena Blake.
Three hundred years ago their covens arranged for them to wed, hoping to end the infighting. He was strong willed and she was hot headed. Their love was instantaneous and passionate. But the night before their wedding, Valencia heard him utter the words that would shatter her heart and send her running.
Now, all these years later, they come face to face at a masked ball at Mystic Isle. Her memory is long and she'll never forget his betrayal…no matter how much her body might crave his touch now.
He has his work cut out for him where she's concerned and only four days left to change her mind. His thirst for her is undeniable. Luckily, he has in his possession the one thing she's always wanted but never been able to possess.

GET YOUR COPY






THE DEETS
ISBN:
Publisher:
Release Date: April 7, 2015
Keywords: vampire, paranormal, werewolf, demon, shape-shifter, god, erotic romance, Mystic Isle, pleasure playground
Genres: Paranormal Romance
Heat Level: Sensual
Length: Novella
Wordcount: 28000
HELP YOUR FRIENDS ESCAPE TO Mystic Isle
Talk on Twitter: #BTTV | Share on Facebook

ADD BTTV TO YOUR LIST

Accolades & Reviews


EXCERPT

He was after something, wanted something. From her most likely. Did he take her for a fool? For an idiot? He'd had plenty of time to find her, to make contact but he'd chosen today. Why?
She didn't get a chance to press for details before he lifted her and started spinning in a tight circle. Clinging to his shoulders, she did a split to keep her legs from clanging into his. The world spun by as the music reached a crescendo.
He stopped abruptly, releasing his hold but controlling her descent. With her right leg hooked around his left, she slithered to the floor and grasped his thigh as she caught her breath. She'd seen the move many times on the dance floor. But with him, with the way he bent over and stared down at her as he cupped her cheek… He was so arrogant, the position so intimate.
Breathless and aroused, her heart demanded she give him anything he desired.
And then he said two words. Two words that took her brain a few seconds to compute. Two words that set off an explosion inside of her.
"Marry me."