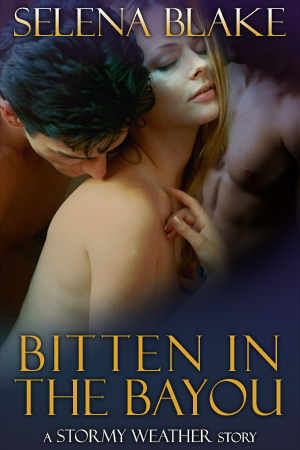 Series: Stormy Weather # 2
If one Deveraux is good, two are infinitely better.
Get Your Copy: Amazon | Amazon UK | Amazon FR | Amazon DE | iBooks | Nook | Google Play | Smashwords |
Jules and Andre Deveraux have been hired to find wildlife photographer Angelica Humphrey. She's lost somewhere in the Louisiana bayou and there's a hurricane brewing. Angelica has never met anyone like Jules or Andre and she's instantly attracted. But she doesn't have time to act on her desire because she has to get away from the ex-boyfriend who stalks her. They take her back to their cabin, offering her protection and shelter from the storm.
But Angelica quickly finds herself falling under their spell and they happily show her that if one Deveraux is good, two are infinitely better.
Warning: Contains two sinfully handsome cajun werewolves with voracious appetites, a splash of danger and a naughty game of scrabble.

GET YOUR COPY








THE DEETS
ISBN:
Publisher: Ecila Media
Release Date: January 12, 2011
Keywords: menage, werewolf, bayou, hurricane
Genres: Erotic Romance, Menage, Paranormal Romance
Heat Level: Sizzling
Length: Novella
Wordcount: 16000
HELP YOUR FRIENDS ESCAPE TO the Bayou
Talk on Twitter: #BittenInTheBayou | Share on Facebook

ADD BITB TO YOUR LIST




Accolades & Reviews

#5 on ARe's bestseller list
"Selena Blake has created a steamy escape down in the bayou. These quick, fun reads are a pleasurable experience to have when time is short." ~ Kristy Bock, ParanormalRomance
"Fantasies come true in STORMY WEATHER 2: BITTEN IN THE BAYOU, as unanticipated circumstances turn into delightfully wicked fun." ~ Amelia,  SensualReads.com

EXCERPT

The lights flickered once, twice, and then they were cast into darkness. With no light, her other senses immediately took over. The rain beat against the house furiously. It seemed alive, like it was trying to claw its way in. A nervous tremor coursed through her veins.
A heavy hand settled on her knee, and she jumped, a girly squeal erupting from her throat.
"Shh… you're okay. Let your eyes adjust." By the tone she could tell it was Jules who was comforting her.
Slowly the candle light from the living room brightened their corner of the kitchen.
"Looks like we're done for a while," he said, his voice low… seductive.
She turned to look at him, able to make out his features, the hungry look in his eyes. Glancing over at André, she saw him watching her closely. The intimate inspection unnerved her. Made her want to shift in her seat.
But the hand on her knee squeezed gently, reassuring her. When she looked into Jules' eyes, she hardly noticed the rumble of thunder or the howling wind.
"I want to kiss you," he whispered.
"Are you asking permission?" she asked and held her breath.
"No," he said roughly, and before she could blink, his lips were crushing hers. She shifted toward him, closing her eyes. He cupped her cheek in his hand, and she wanted to rub herself against it. To soak up his warmth, his strength.He probed at her lips with his tongue, and she opened for him. As his tongue swept inside she heard someone groan. She wasn't sure who.
He tasted rich… of wine and gumbo. Their tongues danced back and forth, and she clung to his shoulders. Her breasts were heavy and aching for his touch. She felt hungry, empty.
Slowly he severed the kiss, and a tiny sound of protest escaped her lips.
"Damn, you know how to kiss. So soft and tempting. Giving and demanding all at once," he said, sounding out of breath. "I could kiss you for hours."
That could be arranged, she thought blissfully.
It was as if the whole day, since she'd first caught sight of them in the woods, had been leading up to this moment. Priming her, readying her for his kiss. His touch.
A warm hand curled around her shoulder, and she turned to look up at André. That predatory look was back, and it called to something inside of her. Quickly she glanced back at Jules.
He cocked his head to the side. "You didn't think he was going to let me keep you all to myself, did you?"