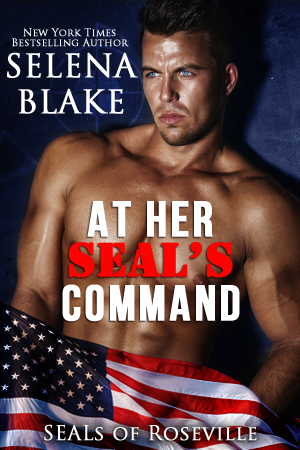 Series: SEALs of Roseville # 1
He's got two weeks to win the woman of his dreams. She doesn't want to be tied down. Tying her up might be just what she needs.
Get Your Copy: Amazon | Amazon UK | Amazon FR | Amazon DE | iBooks | Nook | Kobo |
Previously available in the 11 Alpha Doms bundle.
He's got two weeks to win the woman of his dreams.
After a career ending injury, Navy SEAL Dylan Harper heads home to Roseville to pick up the pieces of his life. When his best friend's little sister returns from a job overseas and needs a place to stay, he sees his future in front of him. The feisty latina bombshell he's always wanted is under his roof and the timing is finally right.
She doesn't want to be tied down.
No matter how many fantasies she's weaved about Dylan, Reya Canales's suffered at the hands of a control freak before and has no intention of entering a relationship as anything other than an equal. Will Dylan's past as a Dom threaten their connection, or can happily ever after come with a side of kink?
Tying her up might be just what she needs.

GET YOUR COPY






THE DEETS
ISBN:
Publisher: Ecila Media Corp
Release Date: December 1, 2015
Keywords: Navy SEAL, contemporary romance, friends to lovers, Roseville Ga, small town romance, best friend's little sister
Genres: Contemporary Romance, Military Romance, SEAL romance
Heat Level: Sensual
Length: Novella
Wordcount: 30000
HELP YOUR FRIENDS ESCAPE TO Ga, Roseville
Talk on Twitter: ##AtHerSEALsCommand | Share on Facebook

ADD AHSC TO YOUR LIST


Accolades & Reviews

"I loved this book! Wonderful characters, an engaging storyline and just enough angst and emotional tension to make it all work." ~ Karen

EXCERPT

Bleary eyed and running on too little sleep, Dylan Harper pulled back the shower curtain and reached for the hot water knob. A kaleidoscope of bright colors swam before his eyes and as he focused, he groaned.
Three bras hung from the showerhead. The red one was so sheer it'd leave nothing to the imagination. He rather liked using his imagination but nevertheless, the garment sparked an instant need in him. He knew exactly where that bra had been, what it'd been cupping.
Next to the red one hung a lacy, frilly black number. The combination of sweet femininity and racy temptress did crazy things to his mind and libido. Mostly he wanted to know where Reya had worn it, underneath what and would she model it for him.
Damn it all, he couldn't be thinking like that. He shouldn't want her with every fiber, tendon, and cell in his body.
But he did.
He'd wanted her for as long as he could remember and thanks to his best friend Teo, her brother, she'd be his house guest until she found an apartment.
He started to turn away but took a lingering look at the third scrap of fabric. This one was a sunny yellow with white polka dots and some sort of light blue trim that made him think of lemonade, daisies and summer sky. It was cute and sweet and different from the other two.
Who was Reya? The sugary soft girl next door or the racy vixen? It didn't matter. He wouldn't be finding out, no matter how much he wanted to.
"Reya," he called, hooking his hands over his hips.
He'd smelled coffee on his way into the bathroom and since he hadn't put a pot on to brew, he knew she had to be awake. His stomach growled and rolled as he waited for her to appear. Thank goodness he'd had the foresight to take that aspirin and a large glass of water before bed. No more tequila shots with her for as long as he lived.
That woman could drink him under the table.
The fiery little Latina bombshell burst into the small bathroom like a ray of sunshine…dark, glossy sunshine with equally dark but warm eyes that glittered as she swept her gaze up, then down him. She was almost as undressed as he was. A pair of boxer shorts hung low on her hips and a tank top clung to her curves, the thin straps barely held in her cleavage.
"Dylan," she said with a grin that brought him from half-mast to full staff.
"Your things—" he said and waved toward the skimpy undergarments. How was it possible that such transparent brasseries held up those… Don't go there, Harper.
"Oh." She stepped forward, bringing her heat and lush curves closer. Too close.
He backed up a step but the bathroom wall stopped him. Way too close.
"Sorry. I always hand wash my lingerie. Makes it last longer," she said, retrieving the skimpy bits.
Try as he might, he couldn't stop his mind from mentally stripping her naked. He'd been without a woman for too long and Reya had been the one keeping him company in his mind for over a decade. To have her so close right now, an arm's length away.
He held his breath and waited for her to exit. It'd be a cold shower for him this morning. And another hand job to get himself under control.
"Are you okay?" she asked, stopping in front of him.
Still too close.
She stared up at him, her warm brown eyes curious.
Why wasn't she leaving?
"Fine," he ground out because she expected a reply.
"Been a while huh?"
"Huh?" A while since what? He frowned.
She glanced down.
Ahh…hell. Now she'd done it.
"Reya…" He practically growled her name. She didn't heed his warning, simply kept staring at him, studying every inch of him.
Smirking, she took a step back, the bra straps dangling from her index finger. "I'll let you take a shower."
"That'd be nice." He reached for the cold water knob and gave it a hard twist.
He heard her giggle from down the hall and damn if that didn't just make him harder. He slammed the door behind her, harder than he meant to but he needed to get control of himself again and fast.
This wasn't him, he thought, studying himself in the mirror. Sighing, he scrubbed a hand over his face and then shucked his boxers.
He was Mister Self Control. He prided himself on it. His legendary cool had kept his Team alive on plenty of occasions and his head on straight.
Add one five-foot-five beauty to the mix and his calm was shot? No way. This would never do. And yet, what was he supposed to do? Ignore her?
That was impossible on so many levels.
He stepped into the chilly spray and bit back another growl of displeasure. The shock didn't even phase his stupid cock. For the first time in a long time, it'd seen something it wanted.
"Too damn bad."
He grabbed the bar of soap and ran it all over, purposely avoiding the misbehaving member jutting between his legs.
"She's Teo's sister." Practically Dylan's sister, except he had never, ever felt brotherly where she was concerned.
Hot and bothered, yes.
Protective? Check.
Horny as a toad? Hell yes.
You don't even know what you're doing with your life, he thought but that reasoning didn't matter to his libido either. Nothing seemed to matter.
He had to finish fixing up this house and get rid of it. He needed to help Reya find a new apartment and he needed to do both on the double. He'd worry about what would come next now that his career as a SEAL was over after he got some distance from the raven haired beauty.
Trouble was, for the first time in his adult life, he had no one and nothing to answer to. No Team, no boss, not even a dog. As timing went, now would be the perfect time for him to accomplish one of his long time goals: settling down.
Several of his buddies had wives and kids. Hell, they'd started families a decade ago. Somewhere deep down, he'd envied them.
Turning around so he could wash his hair, the ache in his knee reminded him that he'd never run through a jungle loaded down with gear again. He would never storm into a building or train with his Team. And while a part of him despaired over the loss, it'd always been in the back of Dylan's mind to find a good woman to share his life with.
Only one woman came to mind.