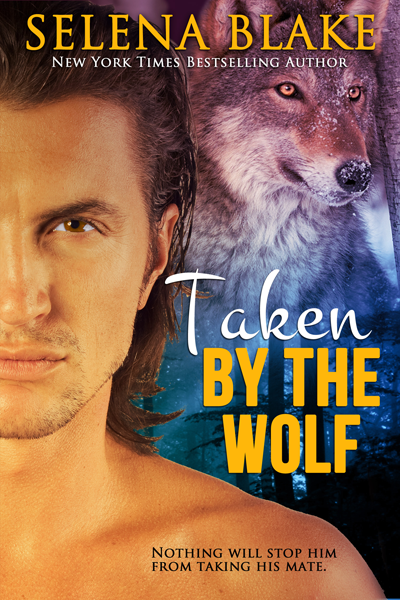 Series: Kindle Worlds: Southern Shifters
Nothing will stop him from taking his mate.
Get Your Copy: Amazon |
Colt is the Alpha of his pack. Tall, strong, gorgeous and mateless. Unless he finds his mate by the next full moon, there will be a challenge for his position.
Robin knows someone is watching her every move and she'll do anything to stay safe. But that will mean turning to the one man she shouldn't trust, the one man fate has decided will be her mate.
—
This is a Kindle Worlds story and part of the Southern Shifters world by Eliza Gayle. It's available exclusively on Amazon.com (US only.)

GET YOUR COPY


THE DEETS
ISBN:
Publisher: Ecila Media
Release Date: August 11, 2015
Keywords: paranormal, werewolf, psy, romance, short story
Genres: Paranormal Romance
Heat Level: Sensual
Length: Short Story
Wordcount: 12500
HELP YOUR FRIENDS ESCAPE TO Deals Gap
Talk on Twitter: #TakenByTheWolf | Share on Facebook

ADD TBTW TO YOUR LIST

Accolades & Reviews


EXCERPT

A shadow crossed the driver's side window and she stared up at Colt. It was hard to make out his features with the motorcycle's headlight directed at her car, but she'd know that body anywhere, those hands were oh so familiar too.
He took a slow look around and she imagined he was scenting the air for anymore enemies waiting in the wings.
You're right, he sent the thought into her head, sounding ridiculously pleased.
He made a 'roll down the window' motion with his pointer finger and squatted next to her door as she complied.
They stared at each other silently; she was unsure what to say and her tongue didn't seem coordinated at the moment anyhow.
"Hi," he started.
"Hi."
"You okay?"
His beautiful eyes raked over her face.
She nodded. "Now that you're here."