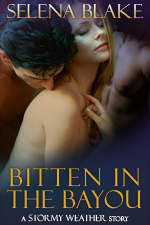 Jules and Andre Deveraux have been hired to find wildlife photographer Angelica Humphrey. She's lost somewhere in the Louisiana bayou and there's a hurricane brewing. Angelica has never met anyone like Jules or Andre and she's instantly attracted. But she doesn't have time to act on her desire because she has to get away from the ex-boyfriend who stalks her. They take her back to their cabin, offering her protection and shelter from the storm.
But Angelica quickly finds herself falling under their spell and they happily show her that if one Deveraux is good, two are infinitely better.
Warning: Contains two sinfully handsome Cajun werewolves with voracious appetites, a splash of danger and a naughty game of scrabble.
Amazon | Amazon UK | Amazon FR |Amazon DE | iBooks | Nook | AllRomanceEbooks |Smashwords
"Selena Blake has created a steamy escape down in the bayou. These quick, fun reads are a pleasurable experience to have when time is short." ~ Kristy Bock, ParanormalRomance
"Fantasies come true in STORMY WEATHER 2: BITTEN IN THE BAYOU, as unanticipated circumstances turn into delightfully wicked fun." ~ Amelia,  SensualReads.com